State-of-the Art Diagnostic Wheel Alignment System
Unaligned wheels can cause irregular and uneven tire wear and how your vehicle handles while driving. If there a vibration while driving or your vehicle is pulling to the right or left, this could be an alignment issue.
With all the potholes, curbs and regular wear and tear, that's all it can take to throw off your vehicle's alignment.
Our diagnostic wheel alignment system, with the AC400 wheel clamps,  eliminates any worry of damaging rims by attaching with a single fast-action adjustment knob and only makes contact with the tire.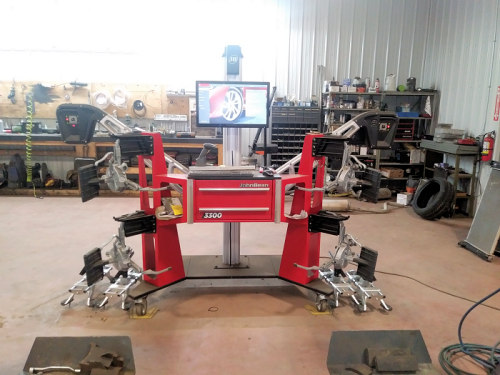 It will detect problems with suspension stress or damage, bent or moving lift components, environmental impacts and more – providing our technicians with the data needed only when necessary to save time and ensure accuracy on every alignment.
capacity of 19,000 lbs
tire diameter – 19″ – 39″
perfect for passenger vehicles, light and medium trucks including 2500 trucks, 3500 trucks, and the Ford 150.